Gerco de Ruijter - Playground (2012) - In Collection: LIMA
02-01-23
Interview with Gerco de Ruijter
Gerco de Ruijter (1961, Vianen) is a visual artist known for his photographs made with kites, balloons and Google Earth tools. In an interview conducted at the beginning of this year, he shared his views on his work, the evolution of aerial photography since he embarked on his career, and the limitations of the Dutch landscape.
Authors
Liska Brams, Angela Gurtsieva, Anastasia Katsman
Not only is De Ruijter a fascinating artist, but he is equally a master of Google Earth. He started his education at the School of Photography in The Hague, but found the approach toward photography too technical and decided to pursue painting, drawing and etching in Rotterdam. He reverted to photography in the late 1980s, when he started to experiment with cameras. It was in this period that he started to attach his camera to kites - this new approach allowed him to capture aerial angels and perspectives that Google couldn't.
From the outset, De Ruijter's interest in nature was showcased through his aerial photographs of Dutch landscapes that he initially captured on black-and-white 35mm film. He recalls the magic of the long but surprising process. Developing the photographs was always suspenseful because he was never sure of what the camera had captured during its flight. 
For De Ruijter, selecting the photographs requires as much attention and care as the production process. In his first series, his choices were often based on the colours of the photos, their picturesque character, and the presence of pictorial details like swans, horses and farmers. De Ruijter recalls the following about the progression of his photographs:
"Back in 2001, people were confused when they saw the images: how were they made? Where is the perspective? Why is the horse seen from above? Later, I sometimes removed all the details that indicated the height and the dimensions of the landscape to leave only the structure of the land and achieve complete abstraction." 
De Ruiter explains how satellite photography was still relatively new twenty years ago. However, nowadays, people are used to aerial portrayals due to the omnipresence of drones, satellite images and GPS technologies. Google in particular has contributed to the ubiquity of aerial views of landscapes. In addition, the Google interface allows for easy manipulations of the image and the possibility to abstract it, for example, by drastically zooming out. De Ruijter makes use of these technological innovations and currently works with Google satellite images on a daily basis.
De Ruijter's first experience of working with Google satellite images was the project Cropped (2012), for which he travelled to New Mexico to photograph circular crop fields with a kite. The fields were so large that they were impossible to capture because the kite was unable to gain enough height. Hence his decision to use Google as a source, resulting in a series of over 1000 screenshots of crop fields which were later combined into a stop-motion film. Interestingly, the images did not need to have a high resolution because all the details become indistinguishable when seen from such a distance.
Gerco de Ruijter, Cropped #6, 2012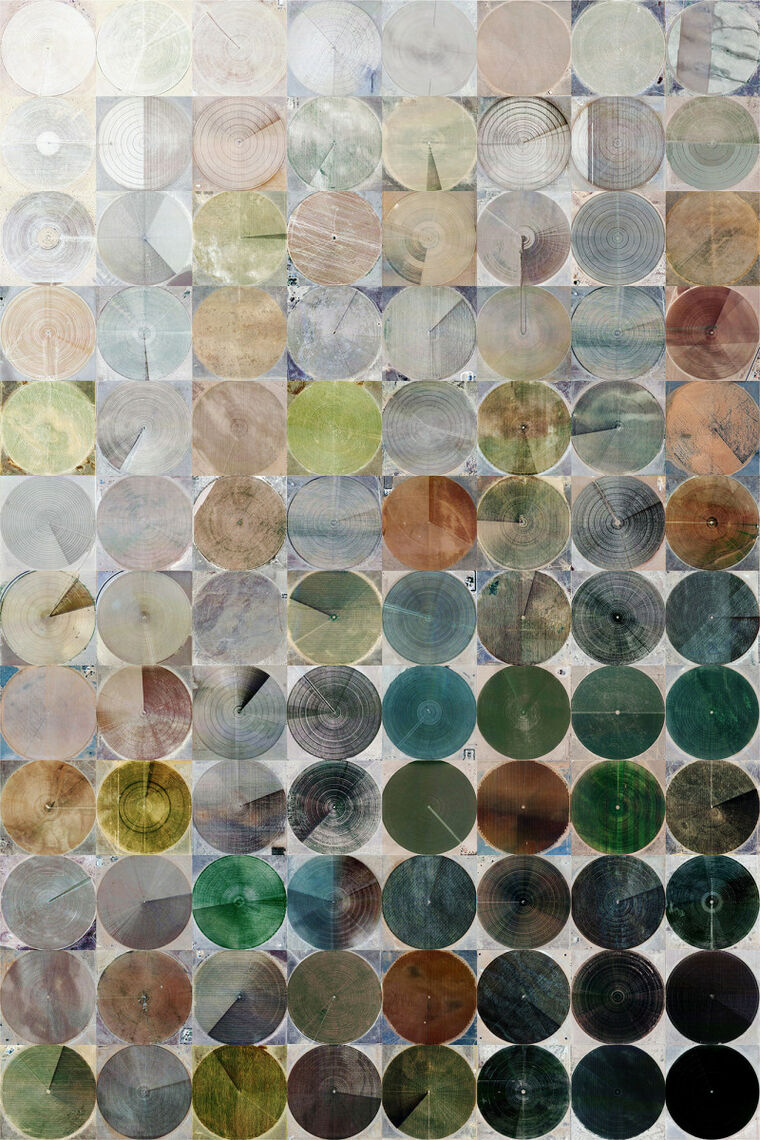 In January 2022, De Ruijter presented his long-term photo project t i l t (2001-2021) in Galerie de Zaal in Delft. For twenty years, he regularly photographed the same fence that runs along the Flakkee polders. In his description of the project, De Ruijter explains how in these photos: "I could recognise how the fence defined the dimensions in a scaleless alternation of textures, like an archaeologist who photographs a box of matches to determine the actual size of his find."
Gerco de Ruijter, t i l t series  (2001-2021) at Galerie de Zaal, Delft.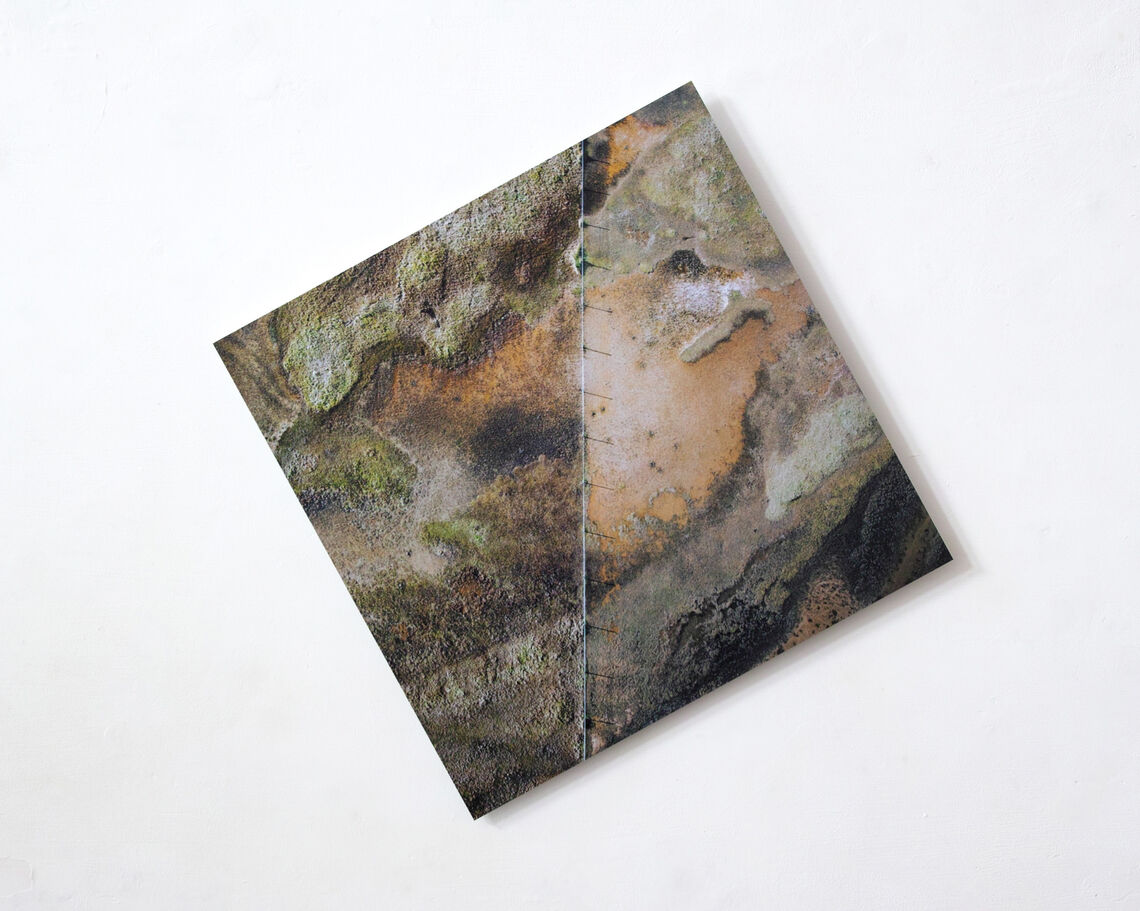 The fence was constructed to protect a rare species of mice from the cows, sheep and other livestock that neighbour them. The difference on the two sides of the fence is contrasting. It is a membrane – you can see how nature has adapted and continues regardless, but because of the fence there is a hard line that accentuates these differences. Two sides are visible – one tamed, and one wild. But how valid is this categorisation?
Grid Corrections (2018) is a recent work that is rooted in both Cropped and t i l t. De Ruijter represents the monotonous network of roads that criss-cross the American landscape. With this imagery, he shows how the geometrical road system in North America strips away the diversity of the landscapes and homogenises their appearance.
Although De Ruijter is not a self-proclaimed environmental or political artist, his works deal with the purest forms of nature and its surroundings. He stresses that he avoids contrasting or comparing landscapes, but rather tries to connect them as closely as possible through the medium of photography. The spontaneity of his photographs infuses them with universal meaning.
Gerco de Ruijter & Michel Banabila - Grid Corrections (2018)
In Collection: LIMA
The flatness of the Dutch landscape is perfect for De Ruijter's experiments with kites and drones. 'Dutch nature has so many faces, but is at the same time boring, since it is mainly man-made'. This duality struck him especially when he travelled to other countries and continents where nature is treated differently.
Another interesting aspect that De Ruijter noted is that with Dutch landscapes, the scale matters. Since in the Netherlands the human presence is inescapable in the form of farms, cars and people, as a photographer you have to decide each time if you want to leave a human aspect in the photos or not.
From Google Earth to the use of a simple kite, Gerco de Ruijter is able to transform snapshots of Earth into inconceivable images. When asked about the work he is most proud of, the artist laughed, as 'of course it must be my latest creation'.