Jeroen Kooijmans - Wolkenfabriek (1996) - In Collection: LIMA
03-01-23
FACE to FACE with Jeroen Kooijmans
Dutch visual artist Jeroen Kooijmans is mainly known for his film and video installations. His artworks have been exhibited in the Stedelijk Museum Amsterdam, MoMA Ps1 (New York), Tate Modern (London) and the Centraal Museum Utrecht. During our conversation, Jeroen shared some insights into his life in New York; how Dutch landscapes inspire him; and the way he interweaves architecture, painting and dance with video.
Authors Liska Brams, Angela Gurtsieva and Anastasia Katsman
We met with Jeroen in his studio located in the same building as LI-MA, a small but well-lit space with a table, a computer and cardboard models as evidence of his previous projects. Although he feels productive working in this environment, he will be travelling to Mexico soon to escape the noise of the renovation downstairs and to work on his new project.
We started the interview by asking him about the basics – his education. He was schooled as an autonomous visual artist at the Rietveld School of Art and Design in Amsterdam. Starting as a painter, he soon realised that video was a more suitable medium to express his ideas. An important tipping point was Work (1994), a hypnotic, hour-long video featuring three men who repetitively shovel the ground. These men were school friends who Jeroen asked to dig for 25 hours, with each round lasting an hour to achieve the effect of a looped video. Jeroen laughs as he tells us that he paid his classmates with lunch after their dedicated contribution to his project. Interestingly, he thought of this idea after travelling through India where he witnessed the everyday lives of Indian labourers who performed their work like a well-oiled machine. This is one of the reasons why Jeroen considers these labourers as representative of the imbalance between the first, second and third worlds and the prevailing power relationships amongst them. Being one of his most featured works, the video can currently be seen at the entrance of the Stedelijk Museum.
Despite having travelled to various destinations over the course of his career, Jeroen's art is still predominantly inspired by his Dutch roots. Motivated by Dutch painters such as Hieronymus Bosch and Johannes Vermeer, the beauty of traditional paintings remains a constant motif in his work. If you look closely at works such as Cloud Factory (1996), you notice Jeroen's subtle use of blue, yellow, and red, a tribute to Vermeer's legacy, affirming Dutch art and artists as a source of inspiration.
Jeroen Kooijmans, still from Cloud Factory (1996).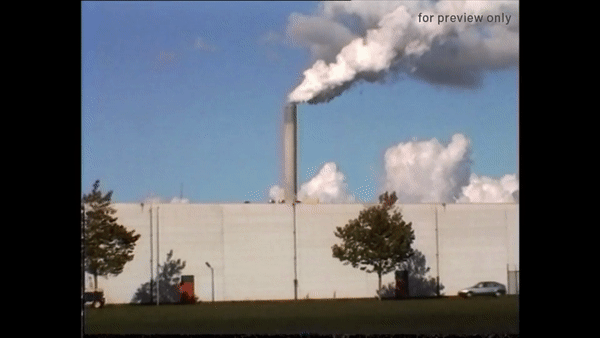 In Collection: LI-MA
Jeroen states that his work is influenced by the prevalent landscapes in The Netherlands . The origins of land reclamation and the efficient creation of polders can be found back as the starting concepts of some of his works. In Floating Gardens (2001), we witness him transporting his country's landscape to the big city of New York. Living in NYC was a crucial period in his life, and the repercussions of 9/11 are a recurring theme in Jeroen's projects. Identifying himself as being very much a 'city guy', he constantly combines his experience of living in various cities with his admiration for natural landscapes.
For Jeroen, the beauty of constructing something hits close to home. Having grown up in a family of architects, he says that maybe he has become an architect after all. He has collaborated with the internationally renowned company MVRDV, specialised in innovative architecture and experimental urban design. From working with nature to city skyscrapers, it is undoubtedly true that Jeroen explores any given environment from the perspective of an engineer and a craftsman.
There was a thematic shift in Jeroen's oeuvre from a focus on the heat of the city in his early works (e.g., The City of Twelve Million Suns, 2000) to the calm of the countryside in his later projects such as On the Lake (2008) and Tree Garden (2014). Apparently, he didn't necessarily intend to omit the city in these recent works but was researching the idea of timelessness and decided to produce images without a clear time-indication. Omitting vehicles, digital innovations, and other time-bound elements, the outcome of his investigation was a display of nature. Jeroen sees the ageless landscapes of swamps, woods, and islands that feature in works like The Fish Pond Song (2006-2016) as places where balance can be restored.
Jeroen Kooijmans, still from Fish Pond Song (2006-2016).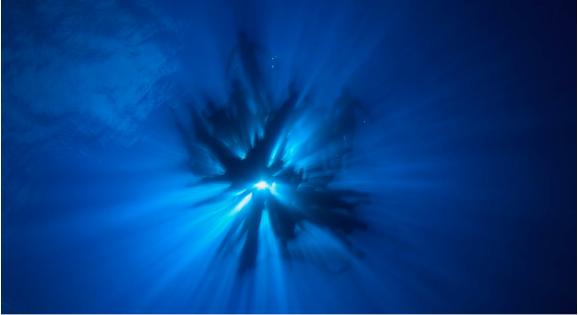 In Collection: LIMA
Jeroen revisited this idea later in the conversation when he emphasised the importance of countering the dark sides of life with positivity. It is no coincidence that the third and last part of The Fish Pond Song, The Healing (2015), ends with a dance. In this video, human figures perform a mystic dance on a small island in the midst of a vast expanse of water to Leonard Cohen's 'Dance Me to the End of Love', one of Jeroen's favourite songs. According to him, dancing allows people to express their joie de vivre and plays an important role in his work as an act of celebration.
It is this celebration of life that Jeroen wanted to explore in his most recent work: Let's Say it's a Dance (2021), in which a naked woman dances in his studio with a Monstera plant. He told us about the rehearsals for the film: he danced while his wife recorded. He met his wife at the academy and she has been involved in his art since then. Holding the photo of her that he keeps on his desk, Jeroen told us about his latest project, a film about love featuring footage he shot of his wife over the past three decades. The movie began as a private work that he intended to give to her as a present. However, after working secretly for four years, one of Jeroen's friends saw some of the footage and encouraged him to reconfigure it as a public project. So Jeroen wrote a letter to his wife asking her if he could share their private videos. Fortunately, she gave her consent and we will soon be able to experience this personal project dealing with one of the most universal themes.